September 3-27th Priya Gore from KaribuFineArt Exhibition- animals painted in acrylic and oil.
October 1-15th Alessa Nashwan Exhibition
An exhibition of stunning acrylic Landscapes
October 18-31st Jeanette Trefle                              'Head's Up' Art Exhibition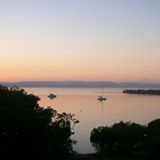 Jeanette enthralled with her very first exhibition in 2018 titled  'The Eyes Have It" (watch the video below). The image on the left depicts Jeanette's  backyard view from her Moreton Bay island home.                                         This October,Jeanette will once again be exhibiting her latest works.  Be prepared for an amazing  exhibition of unusual and fascinating artworks entitled 'Heads Up'.