February 15-28                                                                   
  Toni-Maree Savage &  Kim Smith   
 'AUSTRALIAN BOTANTICALS 2020'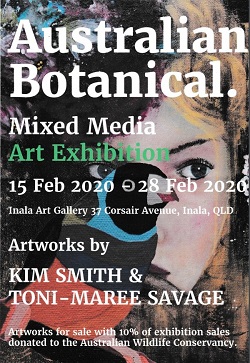 Australian Botanical 2020 is an Australian flora-themed mixed media art exhibition by local fine artists KIM SMITH and TONI-MAREE SAVAGE.
Artworks are interpretations of Australian flowers,birdlife, people and landscapes.
Kim explores the Australian theme with her hallmark pop art style using vibrant colours in contemporary compositions. In contrast,Toni-Maree merges an impressionistic style with realism to create a series of delightful artworks.
The exhibition invites viewers to immerse themselves in Australian flora and free their aesthetic senses.
Artworks for sale with 10% of exhibition sales donated to the Australian Wildlife Conservancy.
March/April    School exhibitions and Art Contest

Annastacia Palaszczuk,MP (Member for Inala) is sponsoring the Inala Student Art Competition for all primary (Grade 6) and secondary schools in her electorate .
 An Official Opening will be held on the 6th March.
The Theme of the competition will be based  on Dorothea McKellar's  poem 'My Country'. 
There will be prizes for the winners and the competition is open to students from years 6 to 12.
Entry forms are available from local schools or from the gallery.
Entries must be received  at the Gallery by 3pm Thursday,February 20.
(Article Extracted from The South West Satellite)
MAY EXHIBITION
Priya Gore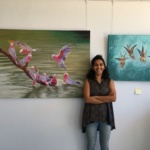 Priya Gore from Karibu Fine Art will be returning in May with her usual stunning array of fine art. We welcome Priya once again.
June Exhibition and Workshop
Alessa Nashwan

Alessa has indicated that he wishes to return to hold an exhibition & workshop at the Inala Art Gallery in June.    Thank you, Alessa.

JULY EXHIBITION
Julie Kean
Rock Art
Acrylic medium artworks
Abstract Art