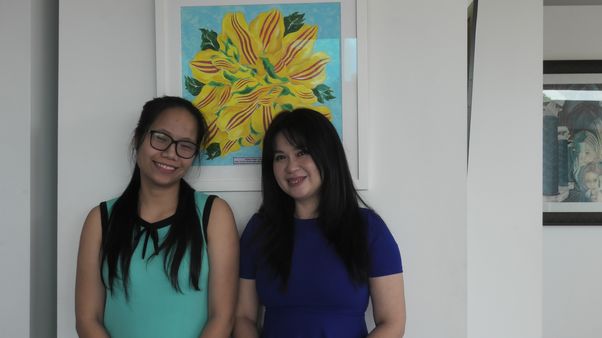 From L to R Linh Nguyen (Vice President) Nguyen Tuyet Linh(President)
The purpose of the Inala Art Gallery is to create a community for art and other cultural activities
. The gallery is a Not-For-Profit Organisation,the only one of its kind in Brisbane,and is run by a volunteer management committee (above)
The vision was to involve the community in a broader range of creative activities available to all.
The gallery is opened to the community to express their opinions,ideas and suggestions as art and culture are vital links and essential parts of a progressive community. We envisaged that schools would take up the offer and display their artistic skills,which they have done.
This in turn encourages parents to visit the gallery and no doubt would spread the word of our activities.
Volunteer tutors have offered their skills to potential artists some of whom,in turn,have become tutors.
The Gallery opened in 1997 with a dedicated group of volunteers and the local council member at that time,Councillor Les Bryant, whose aim was to establish a Community Art Gallery in Inala for all people who were involved in arts and crafts, and to give them the opportunity to display their art in a more prominent gallery. Les was patron for the Inala Art Gallery for many years until 2018.
Councillor Charles Strunk is the current patron of the Inala Art Gallery,and continues to provide his services to the running of the gallery with official exhibition opening duties and financial support.
The Gallery was involved in implementing and running a number of festivals, Asian cooking classes and other training courses for interested persons. Photography, dancing and music were very popular. Through successful grants we were able to purchase recording equipment.. Two groups formed their own bands and they were able to produce their own cds. One group went on to achieve relative success.
"The Year of the Outback", held in 2002, was one of the most outstanding exhibitions held at the gallery. Gallery critics who visited commented that this particular exhibition was of the highest quality with its excellent content and presentation, the likes of which had not been seen before in Brisbane suburbs, let alone in a small gallery like that of Inala. Members of the Gallery committee have chosen to go with exhibitions symbolising Anzac and Remembrance (Armistice) Days with youth from local schools encouraged to participate in the activities. It is great to see these young ones express themselves regarding Remembrance Day.
We recognise the need for funding in order to run the gallery in a responsible and professional manner, whether it be through grants or sponsorship. We hope that government departments will assist in further funding as a lot of people, both young and old, appreciate our Gallery.
An Update In mid December a General Meeting was held with its primary agenda to vote for a new committee and the handing over of the Gallery Administration to the Vietnamese Community Association (VCA) in Inala.
We welcome Linh and her executive team to the Inala Art Gallery and trust that the Gallery will continue to prosper under their stewardship in its 25th year and beyond.